GEFORCE GTX IS PC GAMING
Get Game Ready with GeForce GTX-Powered Gaming PCs.
This is the ultimate gaming experience, fueled by the fastest performance, most advanced gaming technologies, and best gaming ecosystem.
PERFORMANCE
GeForce GTX 10-Series GPUs give you up to 3X the performance of previous-generation GPUs. They're built with ultra-fast FinFET, the latest high-bandwidth memory technologies, and support for DirectX 12 features to deliver the fastest, smoothest gaming notebook experiences.
NVIDIA'S LATEST GEFORCE® GTX 1080 GPU 
IS READY TO AMAZE YOU ON MSI GAMING NOTEBOOKS
MSI is the world's 1st gaming notebook to have this latest NVIDIA next gen. GPU solution onboard. Performance of NVIDIA's next generation GeForce® GTX 1080 GPU is expected to improve more than 40% than GeForce® GTX 900M Series. With the innovative Cooler Boost cooling solution and MSI's special gaming features catered for gamers, the NVIDIA's latest GeForce® GTX 1080 GPU shall be able to release its full performance completely on MSI gaming laptops. By offering "one click to VR" solution and a totally immersive and smooth gaming experiences, the new MSI gaming laptops is going to shatter desktop performance cliché and amaze gamers with refreshing point of views on MSI gaming laptops.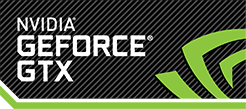 BEST SURROUND MODE ON GT SERIES GAMING NOTEBOOKS
Expand the vision for extreme gaming experience. Embrace immersive gaming experience by expanding your gaming real estate across 3 external displays in 4K UHD resolution with the Latest Surround Mode technology.
MSI GT series has innovative design of pure discrete graphics mode. The Matrix Display on GT series therefore supports up to 3 external 4K displays, 4 displays in total simultaneously through one HDMI (4K @ 60Hz) compatible port, one Mini DisplayPort 1.2 and one Thunderbolt 3* (Type-C port) plus the laptop built-in display. Multi-task is made possible even during competitive gameplays. Connect the laptop to HDTV display, Matrix Display supports 4K output with a resolution up to 3840 x 2160 @60Hz.
MSI Matrix Display and Latest Surround Mode technologies create an ideal environment for extreme gaming experience and pleasant multimedia entertainment.
*A Type-C to Mini DisplayPort cable is required.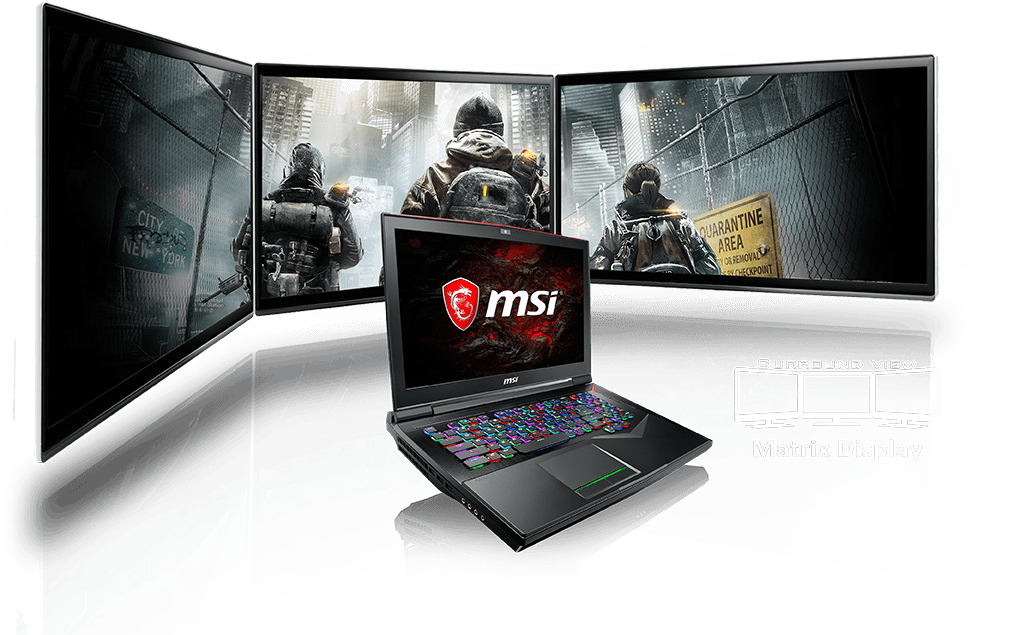 7TH GENERATION INTEL® CORE™ i7 PROCESSORS
With the innovative Cooler Boost Titan cooling solution and MSI's exclusive gaming features catered for gamers, the Intel Core i7-7700HQ releases its full performance completely on MSI gaming laptops.
For GT series with the Core i7-7820HK SKU, CPU frequency can be stretched from 3.8 GHz to 4.2 GHz by SHIFT Turbo mode through Dragon Center, increasing performance by more than 10% compared to that of i7-6820HK.
*The overclock function may vary by model (only available on K series CPU models) and the overclock capability may differ depending on the CPU limitations.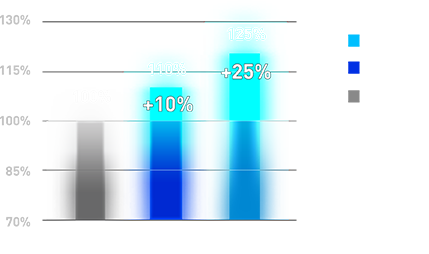 SUPER RAID 4 STORAGE – LOAD GAMES IN SECONDS
Get in the game before everyone else with Super RAID 4, MSI's fastest RAID 0 storage configuration. Combining dual M.2 PCI-E Gen 3.0 x4 SSD's utilizing NVMe technology, harness the full performance potential of the Gen 3.0 SSD through the optimization of the hardware and software outputting extreme read speeds over 3300MB/s. Load games works in seconds!
*This specification may vary by model.

LATEST ARCHITECTURE DDR4-2400 MEMORY SUPPORT
Get the best possible performance out of your notebook with support of the advanced DDR4-2400 memory, achieving over 32GB/s in reading speed and 36GB/s in writing. With over 40% faster performance than previous generations DDR3-1600, DDR4-2400 is the new laptop standard to take your extreme gaming experience to the next level.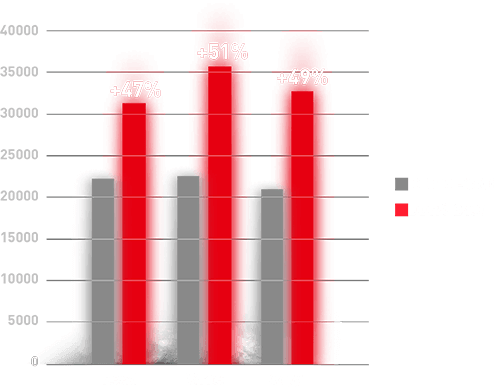 DYNAMIC TEMPERATURE / PERFORMANCE BALANCING
The exclusive MSI "SHIFT" technology pushes system to the extreme while minimizing noise and temperature. Switch between different profiles either push your system to the extreme or in the pursuit of longer battery life. Easily activate it by pressing the FN + F7 hotkey combo, or via the Dragon Center.
COOLER BOOST TITAN – DUAL FANS WITH 10 HEAT PIPES FOR ULTRA COOLING PERFORMANCE
Heat is the most original element on earth. It's pure physics that more energy will generate more heat. Cooling is therefore a knotty task to tackle with. Cooler Boost Titan consists of dual enhanced fans, the Whirlwind Blade. Each fan has 29 blades, increasing 30% more airflow at same RPM. Independent thermal solution on both CPU and GPU with a total of 10 heat pipes make sure that heat doesn't pile up on either CPU or GPU, so that both can deliver its best under extreme gaming.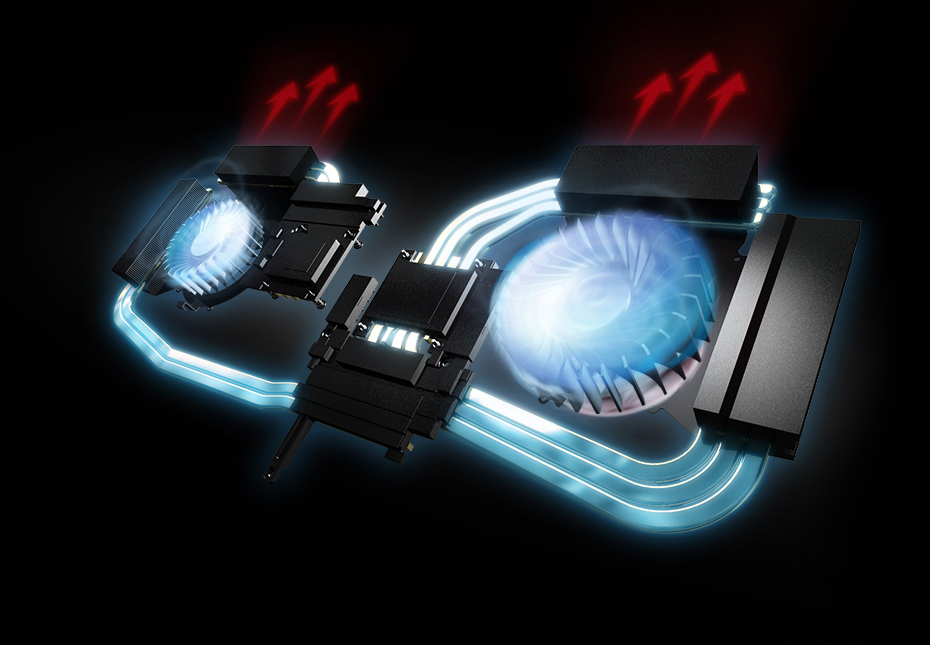 NAHIMIC THE 3D SOUND EXPERT IN GAMING
Live the most incredible and immersive 3D sound experience with Nahimic, highly acclaimed by gaming communities across the world. It offers high definition sound technology that boosts the audio and voice performance of your gaming computer. Get lost in the immersive 7.1 virtual surround sound over your standard audio equipment! Nahimic recreates all of the depth and spatiality of sound on a classic stereo system like your headsets or your external/internal PC speakers. With 2017 Nahimic 2+ release brings even more customizations like the audio profile creation or more fine tuning options for the Sound Tracker, and that for only one goal: being the ultimate weapon for the gamers.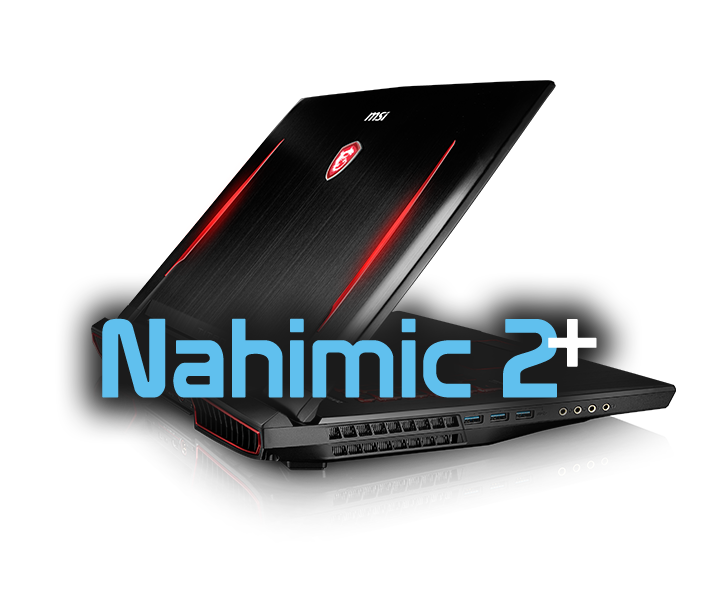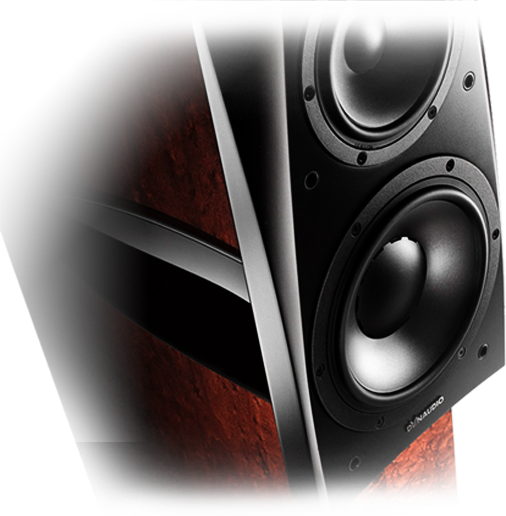 IMMERSIVE GAMING WITH TOP-NOTCH AUDITORY SENSATION
To satisfy consumers' desire to experience high quality sound effects, MSI partners with top audio brand Dynaudio, which has a devoted aspiration for "Authentic Fidelity" to meet this demanding standard and whose loudspeaker systems are often applied by German cars.
It equips the MSI G-Series notebooks with top-notch audio features, creating a realistic sound and immersive effects. The Dynaudio speakers boost power amplitude 50% more than the previous generation, meaning a volume increase over 10dBA. All high quality stereo source is transformed into true-to-life, multi-channel sound. No need to purchase extra speakers, wires or speaker stands to appreciate room-filling sound.

ONE APP, TOTAL CONTROL OF YOUR GAMING SYSTEM
Be in control like never before with the Dragon Center. With six functions: App Portal, System Monitor, LED Wizard, System Tuner, SHIFT technology, and Mobile Monitor. This is the go-to platform to adjust all kinds of system settings; ranging from custom cooling, OC, power modes, keyboard backlighting, access to different software, and plenty more customizations to explore. All within a single click.